Custom Vehicle Wraps
When Standout Wraps customizes your vehicle, traffic jams become your friend. Experts estimate that a service vehicle logs 30,000 to 70,000 views a day. This is an unbeatable chance to get traction on your business. For the best vehicle wrap design and installation service in Indianapolis, give us a call and ask for a free quote at (317) 342-4453.
We Can Wrap Any Vehicle
Trucks
Make your truck work for you 24/7, wherever you go. We can wrap any kind of truck. We also personalize our service to your business needs. For instance, if you are on a tight work schedule, we can pick up your vehicle for you and deliver it after it is wrapped.
Vans
If you own a van, you own a big billboard and one of the most profitable kinds of advertising space that you will ever own. For the most effective messaging, go with full coverage that displays your message on all sides.
Trailers
Amplify your visual impact exponentially when you tow a custom-wrapped trailer with your matching truck. Whatever the space on your trailer, even if it's just 6 inches high, we can custom design a message that looks fantastic.
Cars
Look sharp on the road! Our vinyl wraps are customized according to the contours and hardware of your car, and when you opt for a full coverage wrap, we will personalize the top of the car too.
Fleet
We do whatever is needed to design and print your wraps that are consistent with your branding and company colors. That's why we use our own top-notch printing machines and specialty inks. We can wrap every kind of business vehicle that you have in your company fleet.
Buses & RVs
Since we do all the work in-house, your custom vinyl wraps are the best quality that will be turning heads for years. Our designer will work with you to create a design that will be readable even when your bus is traveling at high speeds.
Food Trucks
Attract some serious attention with vehicle wrapping. Send us pictures of things that you like, and we can custom design your wrap to match your preferences and brand.
If you have a vehicle that isn't listed here, such as a race car or golf cart, give us a call. We are happy to help.
Why You Need Your Vehicles Professionally Wrapped
Your vehicle is one of your best advertising tools. People wonder who's working at the neighbor's house. Other drivers on the road remember your eye-catching truck.

We make sure that your layout is effective and not too busy. Your website and phone number are done right and are placed where people notice them.

Your vehicle looks professional too and keeps looking professional with the passage of time.

A professionally wrapped vehicle tells customers that you are doing the job and take it seriously. You own that equipment and aren't renting it or outsourcing the work.

If you get in an accident and your wrap gets damaged, give us a call. We will get your car re-wrapped quickly so that you can get back to making a great impression as soon as possible. We will even fix a wrap while you wait if the job can be done quickly.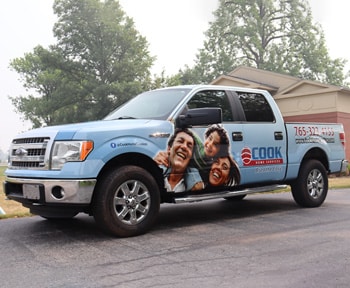 Experienced, professional installers
Making Indianapolis Vehicles Beautiful
For the best service and beautiful custom vinyl wraps, turn to Standout Wraps. For a free quote or to get started, contact us at (317) 342-4453. We proudly serve Indianapolis and nearby areas such as Fishers, Carmel, Greenwood, Zionsville, Noblesville, and Westfield. You can learn more about working with us by checking out our FAQs and who we are.